Marcela Moreira
---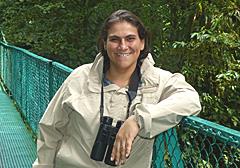 ---
Marcela likes Teaching and also likes Nature.

In her spare time she likes to help high school students who have trouble with math. She helps them to prepare for the exams giving them free lessons in math.

And because of her love for nature she decided to study Ecotourism at the University of Costa Rica. When she obtained the bachelor's degree it was possible for her to combine teaching and nature into one activity: as a Naturalist Guide.

This way she began working for several companies and eventually she became freelance guide.
---